S.A.F.E. Emergency Flip Charts
Prompt Action in an Emergency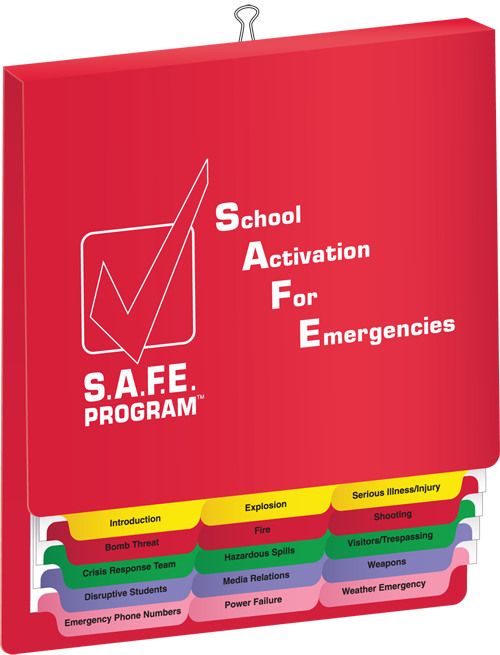 S.A.F.E. Kit Flip Charts provide quick and easy access to vital information during the first seconds of a crisis situation. This is a "grab and go" item, no flipping through pages of a safety manual. Use this to augment your school's larger and more detailed manual.
Integrity Printing's S.A.F.E. Program division will save you steps in the development and implementation of your school's emergency response procedure plan.
The S.A.F.E. Program provides you with easy to use templates which allow you to customize our S.A.F.E. Kits to meet your school district's specific policies and requirements.
All schools need S.A.F.E. Kits with emergency response procedures for teachers, support staff, and administrators. The S.A.F.E. Program enables you to put a plan in place with a minimum amount of time, using our provided templates to create pages with procedures and phone numbers to accommodate your school's requirements. Pages are not permanently bound, so schools can update procedures anytime, without having to reprint the entire kit. Choose from 3 options to suit your school's size and needs:
We can custom print your district or school name and logo on the front cover, print tab titles to meet your school's needs, and we always custom print the pages with your specific procedure instructions.
Smaller schools can still fit our S.A.F.E. Program into their budget by making use of the stock printed cover with 15 tab titles (as shown in the picture at left) and custom printing your 15 procedure pages.
Or simply purchase only the covers, tabs, and binding hardware to assemble with your own printed procedure pages.
Schools receive a full set of proofs for cover copy, tab titles, and procedure pages before printing begins. S.A.F.E. Kits are shipped completely assembled and ready for distribution. Contact Integrity Printing for samples and pricing.


These people and places need a copy of your S.A.F.E. Kit
Classrooms
Lunchrooms, Lounge
Maintenance Staff
School Buses
Auditorium
Counselors, Nurse
Office & Administrative Staff
School Board Members
Library, Study Hall
Gym, Pool, Stadium
Local Emergency Response and Law Enforcement agencies
While we hope they never have to be used, your S.A.F.E. Kits will bring peace of mind to administrators, faculty, staff, parents and students.